Erik Blumenthal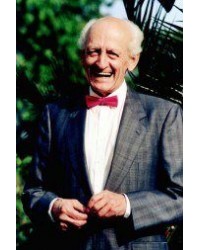 Erik Blumenthal (1914–2004) said that human beings have two important tasks -- to become more conscious and more spiritual.
To assist people carry out those tasks, Erik Blumenthal wrote a series of profound and easy-to-read books that offer practical advice on marriage, child education, the meaning of life, encouragement, and aging.
The far-reaching influence of his wisdom was demonstrated after he passed away in Germany aged 89 on 27 June 2004, when messages of mourning and sympathy poured in from many countries.
He is a member of the Continental Board of Counsellors for Europe since its inception in 1968 until 1985.
Translated from the original German into many languages including English, French, Russian, Chinese, and Japanese, his books are still popular worldwide.
When he faced difficulties, Erik Blumenthal lived up to his own beliefs in the power of faith, a positive attitude, and a realistic optimism -- themes of his book "The Way to Inner Freedom." Because of his father's Jewish origins, he was forbidden entry to university, where he wanted to study medicine. During World War II he was forced to go into hiding for a while to escape harassment by Nazis.
At 38, Erik Blumenthal began his study of psychology and reviewed his life.
In 1964 he became president of the Swiss Society for Individual Psychology, and in 2001 Mr. Blumenthal was awarded the Medal of Honor by the Guild of Counsellors of Individual Psychology.
In 1957 when his wife, Dolores, died, Mr. Blumenthal drew on his faith to carry on and care for their four dependent children.
Erik Blumenthal has four children, fourteen grandchildren, and six great-grandchildren.
---
Showing 1 to 1 of 1 (1 Pages)