Emmanuel Bernard Le Roy Ladurie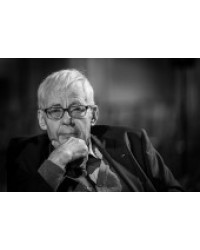 Emmanuel Bernard Le Roy Ladurie (born 19 July 1929) is a French historian whose work is mainly focused upon Languedoc in the Ancien Régime, particularly the history of the peasantry. One of the leading historians of France, Le Roy Ladurie has been called the "standard-bearer" of the third generation of the Annales school and the "rock star of the medievalists", noted for his work in social history.
Le Roy Ladurie was born in Les Moutiers-en-Cinglais, Calvados. His father was Jacques Le Roy Ladurie, minister of Agriculture for Marshal Philippe Pétain and subsequently a member of the French resistance after breaking with the Vichy regime. Le Roy Ladurie described his childhood in Normandy growing up on his family estate's in the countryside as intensely Catholic and royalist in politics. The Le Roy Ladurie family were originally the aristocratic de Roy Laduries descending from a Catholic priest who fell in love with one of his parishioners, dropped out of the priesthood to marry her and was then ennobled by the Crown, but dropped the aristocratic de from their surname at the time of the French Revolution. Le Roy Ladurie has taught at the Lycée de Montpellier, the University of Montpellier, the École Pratique des Haute Études in Paris, the University of Paris and at the Collège de France, where he occupied from 1973 to 1999 the chair of History of Modern Civilization and became emeritus professor.
Le Roy Ladurie was a member of the French Communist Party (PCF) between 1945 and 1956. His devoutly Catholic parents had expected him to become a Catholic priest and were scandalized that their son should become an ardent Communist and atheist. The Great Depression of the 1930s together with France's defeat in 1940 at the hands of Germany had caused many people in France to lose faith in both capitalism and liberal democracy. The leading role played by the French Communists in the Resistance during the German occupation and the willingness of many of the traditional French elites to support the Vichy regime together with the seemingly success achieved by the Soviet regime's planned economy and its "scientific socialism" led Le Roy Ladurie like many other people of his generation in France to embrace Communism as the best hope for humanity.

---
Showing 1 to 1 of 1 (1 Pages)