Joseph Campbell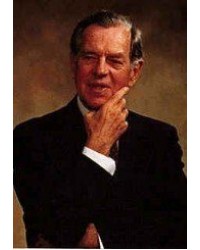 Joseph John Campbell (March 26, 1904 – October 30, 1987) was an American mythologist who worked in comparative mythology and comparative religion. His work covers many aspects of the human experience. Campbell's magnum opus is his book The Hero with a Thousand Faces (1949), in which he discusses his theory of the journey of the archetypal hero found in world mythologies. Since the book's publication, Campbell's theory has been consciously applied by a wide variety of modern writers and artists. His philosophy has been summarized by his own often repeated phrase: "Follow your bliss."
Joseph Campbell, born on March 26, 1904, in New York City, studied Native American folklore as a child and went on to become a Sarah Lawrence professor. After graduating from Columbia University, where he studied English literature (B.A., 1925) and medieval literature (M.A., 1927), Campbell took up a two-year fellowship to study Old French and Sanskrit at the University of Paris and the University of Munich. It was in Europe where he discovered the keys to interpreting myth nonhistorically and nonliterally in the work of Sigmund Freudand Carl Jung, the two leading figures of modern psychology.
Soon after he returned home, Campbell left the doctoral program at Columbia because his advisers would not support his plans to study medieval literature, Sanskrit, and modern art. Because of the stock market crash in the United States and the start of the Great Depression, he found little opportunity for work. For the next five years he lived frugally in Woodstock, New York, and Carmel, California. In 1932–33 Campbell taught at the preparatory school he had attended as a boy, and in the next year he began teaching in New York City at the recently founded Sarah Lawrence College, where he eventually became a professor of literature. Upon his retirement from Sarah Lawrence in 1972, he and his wife, the respected choreographer Jean Erdman, moved to Honolulu. In the 1970s and '80s Campbell became a popular figure on the lecture circuit. A six-part interview on public television with the American journalist Bill Moyers made him a household name in the United States. Lamentably, Campbell died before the interview was first broadcast in 1988.
He died in Honolulu, Hawaii, on October 30, 1987, with a PBS interview series released in 1988.

---
Showing 1 to 1 of 1 (1 Pages)