John Wyndham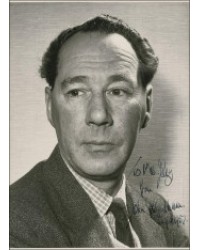 John Wyndham Parkes Lucas Beynon Harris (1903–1969) was an English science fiction writer best known for his works written using the pen name John Wyndham, although he also used other combinations of his names, such as John Beynon and Lucas Parkes. Some of his works were set in post-apocalyptic landscapes. His best known works include The Day of the Triffids (1951) and The Midwich Cuckoos (1957), the latter filmed twice as Village of the Damned.
Wyndham was born in the village of Dorridge near Knowle, Warwickshire (now West Midlands), England, the son of George Beynon Harris, a barrister, and Gertrude Parkes, the daughter of a Birmingham ironmaster.
His early childhood was spent in Edgbaston in Birmingham, but when he was 8 years old his parents separated and he and his brother, the writer Vivian Beynon Harris, spent the rest of their childhood at a number of English preparatory and public schools, including Blundell's School in Tiverton, Devon, during World War I. His longest and final stay was at Bedales School near Petersfield in Hampshire (1918–21), which he left at the age of 18, and where he blossomed and was happy.
---
Showing 1 to 2 of 2 (1 Pages)