Joe R. Lansdale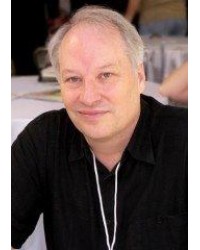 Joe Richard Lansdale (born October 28, 1951) is an American writer, author, martial arts expert, and martial arts instructor.
Lansdale has written novels and stories in many genres, including Western, horror, science fiction, mystery, and suspense. He has also written for comics as well as Batman: The Animated Series. He has written 45 novels and published 30 short story collectionsalong with many chapbooks and comic book adaptations. Several of his novels have been adapted to film.
Frequent features of Lansdale's writing are usually deeply ironic, strange or absurd situations or characters, such as Elvis Presley and John F. Kennedy battling a soul-sucking Egyptian mummy in a nursing home (the plot of his Bram Stoker Award-nominated novella, Bubba Ho-Tep, which was made into a movie by Don Coscarelli). He is the winner of the British Fantasy Award, the American Horror Award, the Edgar Award, and ten Bram Stoker Awards.
Lansdale, who was born in Gladewater, Texas, now lives in Nacogdoches, Texas with his wife Karen and is the writer in residence at Stephen F. Austin State University. He also teaches at his own Shen Chuan martial arts school Lansdale's Self Defense Systems in Nacogdoches and is a member of both the United States Martial Arts Hall of Fame as Sōke and the International Martial Arts Hall of Fame. He is the father of actress, musician, and book publisher Kasey Lansdale and reporter and screenwriter Keith Lansdale who wrote the screenplay for the film Christmas with the Dead. Joe is also a close friend and colleague of author, child advocate, and attorney Andrew Vachss.
---
Showing 1 to 1 of 1 (1 Pages)