Jared Mason Diamond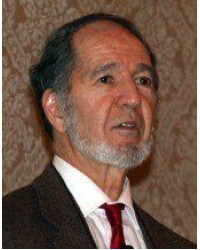 Jared Mason Diamond (born September 10, 1937) is an American ecologist, geographer, biologist, anthropologist and author best known for his popular science books The Third Chimpanzee (1991); Guns, Germs, and Steel (1997, awarded a Pulitzer Prize); Collapse (2005); and The World Until Yesterday (2012). Originally trained in physiology, Diamond is known for drawing from a variety of fields, including anthropology, ecology, geography and evolutionary biology. He is a professor of geography at UCLA.
In 2005, Diamond was ranked ninth on a poll by Prospect and Foreign Policy of the world's top 100 public intellectuals.
Diamond was born in Boston, Massachusetts, United States. Both of his parents were from East European Jewish families who had emigrated to the United States. His father, Louis Diamond, was a physician, and his mother, Flora Kaplan, a teacher, linguist, and concert pianist. Diamond himself began studying piano at age six; years later he would propose to his wife after playing the BrahmsIntermezzo in A minor for her. He attended the Roxbury Latin School and earned a Bachelor of Arts in anthropology and history from Harvard College in 1958 and a PhD on the physiology and biophysics of membranes in the gall bladder from Trinity College, University of Cambridge in 1961.
After graduating from Cambridge, Diamond returned to Harvard as a Junior Fellow until 1965, and, in 1968, became a professor of physiology at UCLA Medical School. While in his twenties he developed a second, parallel, career in ornithology and ecology, specialising in New Guinea and nearby islands. Later, in his fifties, Diamond developed a third career in environmental history and became a professor of geography at UCLA, his current position. He also teaches at LUISS Guido Carli in Rome. He won the National Medal of Science in 1999 and Westfield State University granted him an honorary doctorate in 2009.
Diamond originally specialized in salt absorption in the gall bladder. He has also published scholarly works in the fields of ecology and ornithology, but is arguably best known for authoring a number of popular-science books combining topics from diverse fields other than those he has formally studied. Because of this academic diversity, Diamond has been described as a polymath.
---
Showing 1 to 4 of 4 (1 Pages)