Donn F. Draeger, Gordon Warner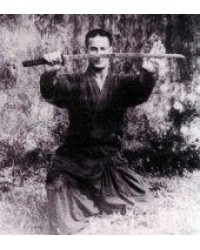 Donald Frederick "Donn" Draeger (1922–1982) was an internationally known teacher and practitioner of Japanese martial arts. He was the author of several important books on Asian martial arts, and was a pioneer of international judo in the United States and Japan. He also helped make the study of martial arts an acceptable topic of academic research.
Draeger reportedly began his involvement in the martial arts while living in the Chicago area, at around the age of 7 or 8. His first training was in jujutsu, but he soon changed to judo and by age 10, he reportedly achieved the grade of 2nd kyu (the lower of the two levels of brown belt).
By 1948, Draeger was ranked 4th dan in judo. This grading occurred before 1947, so it probably occurred while he was stationed in China in 1946. His known judo instructors in Tianjin included Mike Matvey.
In 1952, Draeger was one of the leaders of the newly established US Judo Black Belt Association. This was the first national-level judo organization in North America, and the forerunner of what later became the United States Judo Federation. Draeger's national-level postings included vice-president of the Pan-American Judo Association and chairman of the Public Relations Committee of the Amateur Judo Association of the United States. He also helped promote judo throughout the Mid-Atlantic region of the United States.
Draeger officially represented US judo interests during international contests held in Cuba and Belgium in 1953, and in 1964, he was named the United States Amateur Athletic Union judo representative in Japan, in anticipation of judo's inclusion in the 1964 Olympics.
Draeger also participated in judo activities in Japan. For instance, in 1961, Draeger and British judo athlete John Cornish were the first non-Japanese athletes selected to demonstrate nage-no-kata during the All-Japan Judo Championships. Draeger became a member of the Nihon Kobudo Shinkokai, the oldest Japanese cultural organization for the study and preservation of classical martial arts. He was the first non-Japanese practitioner of Tenshin Shōden Katori Shintō-ryū, achieving instructor status (kyoshi menkyo) in that system. He also held high ranks in Shindo Muso-ryu jodo, kendo, and aikido, among other arts.
Draeger studied the evolution and development of human combative behavior and was director of the International Hoplology Society (IHC) in Tokyo until his death in 1982.
---
Dr. Gordon Warner is an authority on the Japanese art of kendo.
Warner was born in 1916 in Long Beach California. Gordon meet Mori Torao, another kendo fighter, in 1934 at the University of Southern California in Los Angeles. Warner was attending on a swimming scholarship and Mori was there to study English and Economics.
The summer of 1938 saw the two good friends head for Japan to study Kendo at at Uncle Junzo's dojo by 1939 Warner had his Shodan rank in Kendo, Iai, and Kata. He also made some life-long friends in Mori's relatives and was adopted by Sasamori Junzo as a son as Sasamori only had two daughters. As son of the 18th Daimio of Musashi Myamoto's dojo, he became the first foreigner to get a degree in Kendo. He left Japan wearing the MON of the Sasamori Clan on his DO. World War II will interupt Warner's Kendo studies to fight as a Marine Officer in the Pacific while Mori Torao will fight in the Kwantung Army in China as a Japanese Officer.
He is a retired United States Marine Corps Lieutenant Colonel, World War II veteran of the Pacific Campaign and recipient of the Navy Cross. He made Okinawa Japan his home serving as a historian, and a professor.
---
Showing 1 to 1 of 1 (1 Pages)