Dōgen Zenji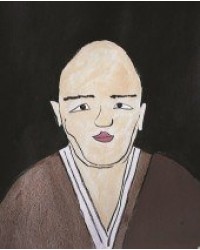 Dōgen Zenji (1200–1253), also known as Dōgen Kigen, Eihei Dōgen, Kōso Jōyō Daishi, or Busshō Dentō Kokushi, was a Japanese Buddhist priest, writer, poet, philosopher, and founder of the Sōtō school of Zen in Japan.
Originally ordained as a monk in the Tendai School in Kyoto, he was ultimately dissatisfied with its teaching and traveled to China to seek out what he believed to be a more authentic Buddhism. He remained there for five years, finally training under Tiantong Rujing, an eminent teacher of the Chinese Caodong lineage. Upon his return to Japan, he began promoting the practice of zazen (sitting meditation) through literary works such as Fukan zazengi and Bendōwa.
He eventually broke relations completely with the powerful Tendai School, and, after several years of likely friction between himself and the establishment, left Kyoto for the mountainous countryside where he founded the monastery Eihei-ji, which remains the head temple of the Sōtō school today.
Dōgen is known for his extensive writing including his most famous work, the collection of 95 essays called the Shōbōgenzō, but also Eihei Kōroku, a collection of his talks, poetry, and commentaries, and Eihei Shingi, the first Zen monastic code written in Japan, among others.
Dogen was born in the year 1200 to an aristocrat and his mistress. His father died when he was only two years old, followed shortly after by his mother's death at age seven. As an older man, he wrote, "When I was quite young, the realization of the transiency of this world stirred my mind towards seeking the Way." This led him to ordain as a monk in the Tendai school in Japan at Mount Hiei, an experience which left him unsatisfied in his search for truth. He then studied briefly with the monk Eisai, the founder of the Japanese Rinzai school, and then with Eisai's student Myozen for seven years (at Kennin-ji in Kyoto) before leaving Japan for China in an effort to find a true teacher.
In 1223 Dogen left for China with one of Eisai's students, Myozen, visiting various teachers in the Lin-chi (Rinzai) tradition. Dogen found his true teacher in the Caodung master Ju-ching in 1225, who he believed had embodied fully his understanding of Buddha Dharma. He received Ju-ching's Dharma transmission two years later, having realized his true nature. Dogen's conversations with his teacher are recorded in the Hokyoki (Memoirs of the Hokyo Era) and references to him can be found throughout his body of work. For Dogen, his teacher was the basis for his belief that practice and enlightenment are one.
Dogen left China in 1227 at age twenty-eight and returned to Japan, where he authored his first major work, the Fukanzazenji; Ju-ching died in that following year. Upon his return, Dogen took up residence again at Kennin-ji, where he set up a place to practice in the Caodong tradition (which, until Dogen, was unknown in Japan). He spent the next fifteen years in the vicinity of Kyoto and spent the remaining ten years of his life in the mountains of Echizen province.
In 1243 he handed over leadership of Kosho-ji to one of his students and moved to Echizen province, where he founded Eihei-ji in the following year (Eihei-ji was then called Daibutsu-ji). There he taught for the next nine years of his life and continued his writing, dying in 1253 while seeking medical attention for his tuberculosis on a trip to Kyoto.
---
Showing 1 to 1 of 1 (1 Pages)