Dobrin Kanev, Antoni Todorov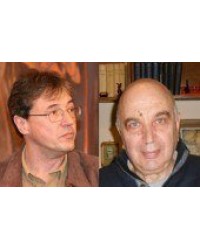 Dobrin Kanev was born in 1948. He graduated from the University of Economics in Sofia. 18 years old, he was a senior scientist at the Institute of Contemporary Social Theories at the Bulgarian Academy of Sciences. In 1987 he was habilitated. He specialized and taught at many universities around the world. He was the head of the Department of Political Science at the New Bulgarian University. Chief Assist. editor of the Political Research magazine. Most of his scientific publications are abroad. His research interest is in the field of political parties in Western Europe - mainly the social democrats, and in the contemporary political processes in Bulgaria. In 1995-1997 he headed the Parliamentary Research Unit at the National Assembly. Now he is the Secretary for Socio-Political Analysis of the President.
Prof. Antoni Todorov is a Bulgarian political scientist. He was born on December 10, 1957 in Sofia. Graduated at the 9th French Language School (1971-1976) and International Relations at the Higher Economic Institute in Sofia (1978-1983). Candidate of Historical Sciences (1988) with a dissertation on "Foreign Political Orientation of the French Communist Party (1972-1984)". Doctor of Political Sciences (2009) with a dissertation on "Political Participation: Citizens, Parties and Elections in the Bulgarian Society".
Assistant Professor (1984-1988), scientific and technical associate (1983-1984) and researcher at the Institute of Social History in Sofia (1989-1990).
Founder and Program Director (Program "Bulgarian Political Life") at the Center for the Study of Democracy (1990-1992). Editor in the Culture Club (1992-1994). Editor-in-chief of Bulgarian Observatory magazine (1994-1995). Senior Advisor to the Parliamentary Research Unit of the National Assembly (1995-1997). Director of the Institute for Social Values ​​and Structures "Ivan Hadjiyski" and senior researcher at BBSS "Gallup-International" (1997-1999).
Chief Assistant (in Political Science and International Relations) (1990-1999), Associate Professor (1999-2002), PhD Associate Professor (2002-2012) and Professor of Political Science at New Bulgarian University (2012).
Director of the Francophone Program in Political Science at NBU (1999-). Head of the Department of Political Science (2001-2003). Dean of the Faculty of Mathematics (2003-2005). Deputy Rector of International Affairs (2005-2007).
Guest Professor at Burgundy University in Dijon (2002 and 2007), Southeast European University in Tetovo, Republic of Macedonia (2008) and Brussels Free University in Brussels (2008, 2010-2012).
Member of the Bulgarian Helsinki Committee (1990-), the Public Social and Environmental Research Institute (1992-), the ACCESS Association in Sofia (1991-), the MARCOM Foundation (1996-), the National Consultative Council of the Diplomatic Institute Ministry of Foreign Affairs (2005-)
Member of the Managing Boards of the Association of Francophones in Social Sciences in Sofia (1993-), Manfred Wörner Foundation (1997-), Civil Society Development Foundation (1998-2000), AISLF (International Association of Sociologists -franchophones) (2004-2008).
Chairman of the Management Board of the Bulgarian Association of Political Science (2002-2012).
---
Showing 1 to 1 of 1 (1 Pages)