DBC Pierre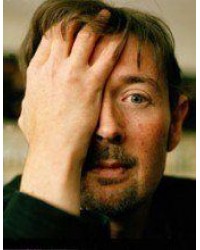 DBC Pierre (born Peter Finlay in 1961) is a writer who wrote the novel Vernon God Little.
He was born in South Australia in 1961, before moving to Mexico, where Pierre was largely raised. He now resides in the Republic of Ireland.
Pierre was awarded the 2003 Booker Prize for fiction for Vernon God Little, his first novel, becoming the third Australian-born author to be so honoured. Upon winning the Whitbread First Novel Award in 2003 he became the first writer to receive a Booker and a Whitbread for the same book. The book also won the Bollinger Wodehouse Everyman Prize for comic literature at the Hay Festival in 2003, and earned the author a James Joyce Award from the Literary and Historical Society of University College Dublin.
Born in Reynella in South Australia, where his father was lecturing in genetics at the University of Adelaide, by the age of two Pierre had already spent time in the United States, the South Pacific and Great Britain. He was then raised from early childhood into his 20s in Mexico City's community of Jardines del Pedregal, and attended Edron Academy.
---
Showing 1 to 1 of 1 (1 Pages)