Charles Stross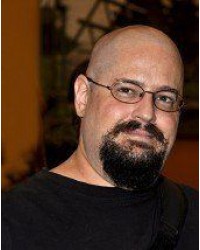 Charles David George "Charlie" Stross (born 18 October 1964) is a British writer of science fiction, Lovecraftian horror, and fantasy. Stross specialises in hard science fiction and space opera. Between 1994 and 2004, he was also an active writer for the magazine Computer Shopper and was responsible for the monthly Linux column. He stopped writing for the magazine to devote more time to novels. However, he continues to publish freelance articles on the Internet.
Stross was born in Leeds, England. He showed an early interest in writing and wrote his first science fiction story at age 12. He graduated with a bachelor's degree in Pharmacy in 1986 and qualified as a pharmacist in 1987. In 1989, he enrolled at Bradford University for a post-graduate degree in computer science. In 1990, he went to work as a technical author and programmer. In 2000, he began working as a writer full-time, as a technical writer at first, but then became successful as a fiction writer.
Accelerando won the 2006 Locus Award for Best Science Fiction Novel. "Missile Gap" won the 2007 Locus Award for best novella. "The Concrete Jungle" (contained in The Atrocity Archives) won the Hugo Award for best novella in 2005; "Palimpsest", included in Wireless, won the same award in 2010, and "Equoid" in 2014. The Apocalypse Codex won the 2013 Locus Award for Best Fantasy Novel. Stross's work has also been nominated for a number of other awards, including the John W. Campbell Memorial Award, Arthur C. Clarke Award, and the Hugo Award for Best Novel, as well as the Japanese Seiun Award.

---
Showing 1 to 2 of 2 (1 Pages)