Bob Dylan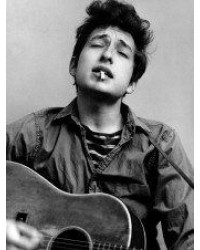 Bob Dylan (born Robert Allen Zimmerman, May 24, 1941) is an American singer-songwriter, musician, author and painter, who has been an influential figure in popular music and culture for more than five decades. Much of his most celebrated work dates from the 1960s, when he became a reluctant "voice of a generation" with songs such as "Blowin' in the Wind" and "The Times They Are a-Changin'", which became anthems for the Civil Rights Movement and anti-war movement. Leaving behind his initial base in the American folk music revival, his six-minute single "Like a Rolling Stone", recorded in 1965, enlarged the range of popular music.
Dylan's lyrics incorporate a wide range of political, social, philosophical, and literary influences. They defied existing pop music conventions and appealed to the burgeoning counterculture. Initially inspired by the performances of Little Richard and the songwriting of Woody Guthrie, Robert Johnson, and Hank Williams, Dylan has amplified and personalized musical genres. His recording career, spanning more than 50 years, has explored the traditions in American song—from folk, blues, and country to gospel, rock and roll, and rockabilly to English, Scottish, and Irish folk music, embracing even jazz and the Great American Songbook. Dylan performs with guitar, keyboards, and harmonica. Backed by a changing lineup of musicians, he has toured steadily since the late 1980s on what has been dubbed the Never Ending Tour. His accomplishments as a recording artist and performer have been central to his career, but his songwriting is considered his greatest contribution. Since 1994, Dylan has also published seven books of drawings and paintings, and his work has been exhibited in major art galleries.
As a musician, Dylan has sold more than 100 million records, making him one of the best-selling artists of all time. He has also received numerous awards including eleven Grammy Awards, a Golden Globe Award, and an Academy Award. Dylan has been inducted into the Rock and Roll Hall of Fame, Minnesota Music Hall of Fame, Nashville Songwriters Hall of Fame, and Songwriters Hall of Fame. The Pulitzer Prize jury in 2008 awarded him a special citation for "his profound impact on popular music and American culture, marked by lyrical compositions of extraordinary poetic power." In May 2012, Dylan received the Presidential Medal of Freedom from President Barack Obama. In 2016, he was awarded the Nobel Prize in Literature "for having created new poetic expressions within the great American song tradition".
Bob Dylan was born Robert Allen Zimmerman in St. Mary's Hospital on May 24, 1941, in Duluth, Minnesota, and raised in Hibbing, Minnesota, on the Mesabi Range west of Lake Superior. He has a younger brother, David. Dylan's paternal grandparents, Zigman and Anna Zimmerman, emigrated from Odessa, in the Russian Empire (now Ukraine), to the United States following the anti-Semitic pogroms of 1905. His maternal grandparents, Ben and Florence Stone, were Lithuanian Jews who arrived in the United States in 1902. In his autobiography, Chronicles: Volume One, Dylan wrote that his paternal grandmother's maiden name was Kirghiz and her family originated from Kağızman district of Kars Province in northeastern Turkey.
Dylan's father, Abram Zimmerman – an electric-appliance shop owner – and mother, Beatrice "Beatty" Stone, were part of a small, close-knit Jewish community. They lived in Duluth until Robert was six, when his father had polio and the family returned to his mother's hometown, Hibbing, where they lived for the rest of Robert's childhood. In his early years he listened to the radio—first to blues and country stations from Shreveport, Louisiana, and later, when he was a teenager, to rock and roll.
---
Showing 1 to 1 of 1 (1 Pages)