Bill O'Reilly, Martin Dugard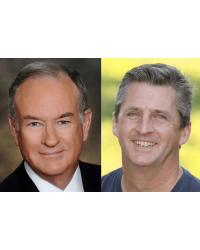 William James O'Reilly Jr. (born September 10, 1949) is an American journalist, author, and former television host. During the late 1970s and 1980s, he reported for local television stations in the United States and later for CBS News and ABC News. He anchored the tabloid television program Inside Edition from 1989 to 1995. O'Reilly joined the Fox News Channel in 1996 and hosted The O'Reilly Factor until 2017. The O'Reilly Factor was the highest-rated cable news show for 16 years, and he was described by media analyst Howard Kurtz as "the biggest star in the 20 year history at Fox News" at the time of his departure. He is the author of numerous books and hosted The Radio Factor (2002–2009). Since 2017, he has hosted the No Spin News podcast which he founded after being fired from Fox. O'Reilly is considered to be a conservative commentator.
---
Martin Dugard (born June 1, 1961 in Maine) is an American author. He is known for his frequent collaboration with former Fox News host and commentator, Bill O'Reilly. He began writing professionally in 1988. Bored by an unfulfilling corporate marketing job, he began writing articles for endurance sports magazines such as Competitor and Runner's World in the mornings and on weekends. In 1993, inspired by a three-week journey to Madagascar to cover the Raid Gauloises adventure race, Dugard left the corporate world to pursue a full-time writing career. Although he has returned to journalism from time to time, as when covering the Tour de France from 1999 to 2008, Dugard's primary focus is writing narrative non-fiction. Dugard wrote his first work of history in 2000.
---
Showing 1 to 1 of 1 (1 Pages)