Balcho Neykov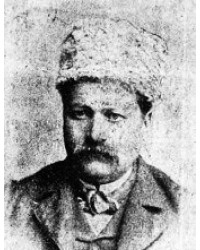 Balchо Neykov Dyakov was born on May 18, 1838 in the Northern Dobrudja village of Ak Bunar (Tulcea, Romania).
In 1841 the family of B. Neykov settled in the village of Potour. There, at the local council in 1847, Balcho first met Stefan Todor Dimov, the future Karadzha, who was visiting his relatives. They like each other, they are friends, even though they live in different villages. By 1854, when Stefan's family left for Tulcea, they were almost inseparable. They were last seen together in November 1864 in Braila, Romania.
B. Neykov is not a revolutionary. He was dealing with teaching, trade, agriculture, cattle breeding. He lives in Medjidje [1867-1874], Babadag [1874-1876], from 1876 in Tulcea. For a short time in 1877-1878 he managed the customs and was the mayor of the town of Stara Klilia [today. Chile Veche, Tulcea County]. About 1883 he returned to Bulgaria. We find his trails in Varna, Provadia, Shumen, Arbanassi, Sliven, Plovdiv, Sofia.
---
Showing 1 to 1 of 1 (1 Pages)