Atanas Kossev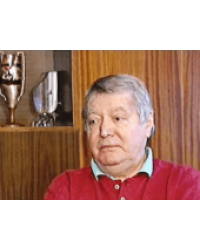 Atanas Kossev is a Bulgarian composer and author of film music.
He was born on March 10, 1934 in Rousse. He graduated from the "Pancho Vladigerov" State Academy of Music in 1964. He is founder and conductor of the first Youth Symphony Orchestra in Rousse in 1952. Kossev was a long time producer at the Bulgarian National Radio and Bulgarian National Television. He is recipient of the awards of UNESCO and FIDOF, Sofia Award for Music (1968); awards at the Alexandria Music Festival in Egypt, (1972); Castelbury Music Festival in Ireland (1975); The Grand Prix at the "Golden Orpheus" Festival in Bulgaria (1979 and 1998); The Best Song Prize at the Neewollah International Festival in USA (1981); Award of the Union of Bulgarian Composers (1983).
Kossev is author of film and theatre music and over 500 choir and pop songs. He has also published seven poetry books. Kossev is listed in the International Directory for Distinguished Leadership, first edition of the American Biographical Institute.
---
Showing 1 to 1 of 1 (1 Pages)