Asen Mladenov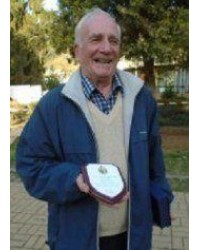 Asen Mladenov was born in 1944 in the village of Kashle, Transko. He graduated from the Technical University in Sofia in 1970. He worked at the company "Stomana" in Pernik as Head of Automation of Production Department until 2002.
He researched transki accent and collected words from city of Tran for more than 30 years. In 2009, he published a dictionary of regional speech.
This third revised and supplemented edition of "Tran's Words" contains over 8300 words. This volume has been greatly expanded with examples of the words usage in the colloquial speech. He also has added many folk songs, proverbs, sentances, as well as several stories and folk tales.
73-year-old Asen Mladenov is officially awarded as an honorary citizen of the city of Tran.

---
Showing 1 to 1 of 1 (1 Pages)