Arthur Conan Doyle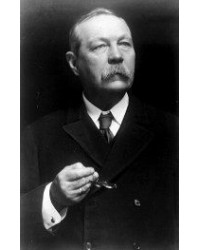 Arthur Ignatius Conan Doyle was born on May 22, 1859, in Edinburgh, Scotland. The Doyles were a prosperous Irish-Catholic family. Charles Altamont Doyle, Arthur's father, a chronic alcoholic, was a moderately successful artist, who apart from fathering a brilliant son, never accomplished anything of note. At the age of twenty-two, Charles had married Mary Foley, a vivacious and well educated young woman of seventeen.
Mary Doyle had a passion for books and was a master storyteller. Her son Arthur wrote of his mother's gift of "sinking her voice to a horror-stricken whisper" when she reached the culminating point of a story. There was little money in the family and even less harmony on account of his father's excesses and erratic behaviour. Arthur's touching description of his mother's beneficial influence is also poignantly described in his autobiography, "In my early childhood, as far as I can remember anything at all, the vivid stories she would tell me stand out so clearly that they obscure the real facts of my life."
After Arthur reached his ninth birthday, the wealthy members of the Doyle family offered to pay for his studies. He was in tears all the way to England, where he spent seven years in a Jesuit boarding school. Arthur loathed the bigotry surrounding his studies and rebelled at corporal punishment, which was prevalent and incredibly brutal in most English schools of that epoch.
During those gruelling years, Arthur's only moments of happiness were when he wrote to his mother, a regular habit that lasted for the rest of her life, and also when he practised sports, mainly cricket, at which he was very good. It was during these difficult years at boarding school that Arthur realized he also had a talent for storytelling. He was often found surrounded by a bevy of totally enraptured younger students listening to the amazing stories he would make up to amuse them.
By 1876, graduating at the age of seventeen, Arthur Doyle, (as he was called, before adding his middle name "Conan" to his surname), was a surprisingly normal young man. With his innate sense of humour and his sportsmanship, having ruled out any feelings of self-pity, Arthur was ready and willing to face the world.
Years later he wrote, "Perhaps it was good for me that the times were hard, for I was wild, full blooded and a trifle reckless. But the situation called for energy and application so that one was bound to try to meet it. My mother had been so splendid that I could not fail her." It has been said that Arthur's first task, when back from school, was to co-sign the committal papers of his father, who by then was seriously demented.
One can get a fairly good idea of the dramatic circumstances which surrounded the confinement of his father to a lunatic asylum in a story Arthur Conan Doyle wrote in 1880 called The Surgeon of Gaster Fell.
Family tradition would have dictated the pursuit of an artistic career, yet Arthur decided to follow a medical one. This decision was influenced by Dr. Bryan Charles Waller, a young lodger his mother had taken-in to make ends meet. Dr. Waller had trained at the University of Edinburgh and that is where Arthur was sent to carry out his medical studies.
The young medical student met a number of future authors who were also attending the university, including James Barrie and Robert Louis Stevenson. However the man who most impressed and influenced him was without a doubt, one of his teachers, Dr. Joseph Bell. The good doctor was a master at observation, logic, deduction, and diagnosis. All these qualities were later to be found in the persona of the celebrated detective Sherlock Holmes.
A couple of years into his studies, Arthur decided to try his pen at writing a short story. The result entitled The Mystery of Sasassa Valley was very evocative of the works of Edgar Allan Poe and Bret Harte, his favourite authors at the time. It was accepted in an Edinburgh magazine called Chamber's Journal, which had published Thomas Hardy's first work.
He decided the time had come to leave Portsmouth, and go to Vienna, where he wanted to specialize in Ophthalmology. A foreign language turned that trip into somewhat of a fiasco and after a visit to Paris; Conan Doyle hurried back to London followed by the gentle Louisa. Conan Doyle opened a practice in elegant Upper Wimpole Street where, if you read his autobiography, not a single patient ever crossed his door. This inactivity gave him a lot of time to think and as a result, he made the most profitable decision of his life, that of writing a series of short stories featuring the same characters. By then, Conan Doyle was represented by A. P. Watt, whose duty was to relieve him of "hateful bargaining." Hence, it was Watt who made the deal with The Strand magazine to publish the Sherlock Holmes stories. The "image" of Holmes was created by the illustrator Sidney Paget who took his handsome brother Walter as a model for the great detective. This collaboration lasted for many decades and was instrumental in making the author, the magazine and the artist, world famous.
As years went by, having spent over a quarter of a million pounds in the pursuit of his esoteric dreams, Conan Doyle was faced with the necessity to earn money. In 1926, Professor Challenger and his colourful friends appeared again in The Land of Mist, a novel of Psychic adventures followed by The Disintegration Machine and When The World Screamed. Two years later, his last twelve stories about the exploits of the immortal detective were compiled in The Casebook of Sherlock Holmes.
In the autumn of 1929, in spite of having been diagnosed with Angina Pectoris, Conan Doyle went off for his last Psychic tour to Holland, Denmark, Sweden and Norway. He was in such pain by the time he returned, that he had to be carried ashore. Bedridden from that time on, he managed to have one last quixotic adventure on a cold spring day in 1930. He rose from his bed, and unseen went into the garden. When he was found, he was lying on the ground, one hand clutching his heart, the other holding a single white snowdrop.
Arthur Conan Doyle died on Monday, July 7, 1930, surrounded by his family. His last words before departing for "the greatest and most glorious adventure of all," were addressed to his wife. He whispered, "You are wonderful."
---
Showing 1 to 5 of 5 (1 Pages)