E. W. Hornung & Ernest Bramah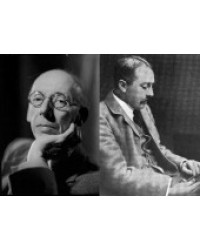 Ernest William Hornung (1866–1921) was an English author and poet known for writing the A. J. Raffles series of stories about a gentleman thief in late 19th-century London. Hornung was educated at Uppingham School; as a result of poor health he left the school in December 1883 to travel to Sydney, where he stayed for two years. He drew on his Australian experiences as a background when he began writing, initially short stories and later novels.
In 1898 he wrote "In the Chains of Crime", which introduced Raffles and his sidekick, Bunny Manders; the characters were based partly on his friends Oscar Wilde and his lover, Lord Alfred Douglas, and also on the characters of Sherlock Holmes and Dr. Watson, created by his brother-in-law, Arthur Conan Doyle. The series of Raffles short stories were collected for sale in book form in 1899, and two further books of Raffles short stories followed, as well as a poorly received novel. Aside from his Raffles stories, Hornung was a prodigious writer of fiction, publishing numerous books from 1890, with A Bride from the Bush to his 1914 novel The Crime Doctor.
---
Ernest Bramah (1868– 1942), born Ernest Brammah Smith, was an English author. He published 21 books and numerous short stories and features. His humorous works were ranked with Jerome K Jerome and W. W. Jacobs, his detective stories with Conan Doyle, his politico-science fiction with H. G. Wells and his supernatural stories with Algernon Blackwood. George Orwell acknowledged that Bramah's book, What Might Have Been, influenced his Nineteen Eighty-Four. Bramah created the characters Kai Lung and Max Carrados.
Bramah also wrote political science fiction. What Might Have Been, published in 1907 and republished as The Secret of the League in 1909, is an anti-socialist dystopia reflecting Bramah's conservative political views. It was acknowledged by George Orwell as a source for Nineteen Eighty-Four. Orwell credited it with giving a considerably accurate prediction of the rise of Fascism.
At a time when the English Channel had yet to be crossed by an aeroplane, Bramah foresaw aerial express trains travelling at 10,000 feet, a nationwide wireless-telegraphy network, a proto-fax machine and a cypher typewriter similar to the German Enigma machine.
In 1914, Bramah created Max Carrados, a blind detective. Given the outlandish idea that a blind man could be a detective, in the introduction to the second Carrados book The Eyes of Max Carrados Bramah compared his hero's achievements to those of real life blind people such as Nicholas Saunderson, Lucasian Professor of Mathematics at Cambridge, Blind Jack of Knaresborough the road builder, John Fielding the Bow Street Magistrate of whom it was said he could identify 3,000 thieves by their voices, and Helen Keller.
---
Showing 1 to 1 of 1 (1 Pages)