Anton Strashimirov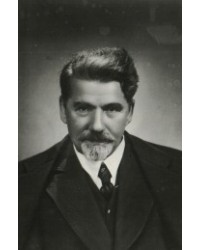 Anton Todorov Strashimirov (1872-1937) is a Bulgarian writer, playwright, publicist and politician.
He was born in the great Bulgarian family Strashimirovi in 1872 in the family of the mason, a migrator from the Razlog village Banya Todor Strashimirov. Brother of Todor Strashimirov and Dimitar Strashimirov. At age 13 he leaves his hometown of Varna, wanders in Dobroudja, serves in pubs and cafes, works on tobacco fields and as a speaker, bookkeeper, painter. He studied V (nd IX) class in Razgrad, then at the Agricultural School in Sadovo. In 1890-1894 he was a teacher from different villages in Varna and Burgas. Develops an active educational activity. Edits the newspaper "Voice from the East" in Burgas.
In 1895 he went to Bern, Switzerland. He has attended lectures in the field of literature and geography and has become familiar with Western literature and philosophy, including the work of Henrik Ibsen, August Strindberg, Morris Materlink.
After his return to Bulgaria he worked as a high school teacher in Vidin (1898-1899). Together with Dr. Z. Dimitrov, Dr. N. Petkov and V.P Gochev in Vidin he edited the literary scientific magazine "Prag".
He participated in the Macedonian liberation movement along with Yane Sandanski.
After his wife's death, Strashimirov's health got worse. He was sent for a heart surgery in Vienna, where he died on 7 December 1937. He was buried in Sofia.
---
Showing 1 to 1 of 1 (1 Pages)