Acharya Balkrishna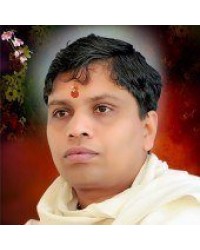 Acharya Balkrishna is the managing director and primary stakeholder of Patanjali Ayurved, an Indian FMCG company. He is a close aide of yoga guru, Baba Ramdev, with whom he founded the company in 2006. In September 2016, he has been ranked as 46th richest man in India by Forbes. Hurun India Rich List 2016 ranked him at 25th position among 399 Indians present in the list.
Balkrishna is also a scholar of Ayurveda, Sanskrit and the Vedas and hence often referred as Acharya Balkrishna. The Patanjali group claimed that he rediscovered Sanjeevani Booti, a herb which is believed to have the power to cure any malady and was believed to save the life of Lakshmana in the epic Ramayana.
Balkrishna was born to Sumitra Devi and Jay Vallabh on July 25, 1972 in Haridwar. His parents are natives of Nepal, but his father was working in Haridwar when Balkrishna was born. He joined Kalwa Gurukul, Haryana in 1988. Here he met the person widely known today as the Yoga Guru Swami Ramdev. They soon developed a bond that shaped their destiny. After Balkrishna completed his post-graduation from Sampurnanand Sanskrit University in Varanasi, he travelled across India to study plants and their medicinal value, a key element of Ayurveda.
In the year 1993 he and Ramdev were living in the Himalayan caves of the Hindu pilgrim town of Gangotri, a popular haunt among holy men and ascetic near the source of India's holiest river, the Ganges. Because of his knowledge of herbs, Balkrishna started getting frequent requests from visitors for medicines for common ailments. This planted the seed for the establishment of charitable organizations of ayurvedic medicines and treatments.
The duo founded an Ayurvedic Medicine-manufacturing unit named Divya Pharmacy in Haridwar in 1995. Later Balkrishna helped Ramdev to set up a number of other businesses.
---
Showing 1 to 2 of 2 (1 Pages)