Algernon Freeman-Mitford, First Baron Redesdale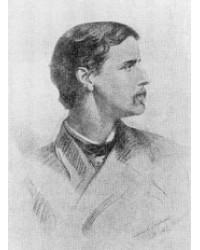 Algernon Bertram Freeman-Mitford, 1st Baron Redesdale (1837 – 1916) was a British diplomat, collector and writer. Nicknamed "Barty", he was the paternal grandfather of the Mitford sisters.
Entering the Foreign Office in 1858, Mitford was appointed Third Secretary of the British Embassy in St Petersburg. After service in the Diplomatic Corps in Shanghai, he went to Japan as second secretary to the British Legation at the time of the migration of the Japanese Seat of Power from Kyoto to Edo (modern-day Tokyo, known as the "Meiji Restoration")
Lord Rededale served as secretary under Myburgh`s replacement, John Frederik Lowder. There he met Ernest Satow and wrote Tales of Old Japan (1871), a book credited with making such Japanese Classics as "The Forty-seven Ronin" first known to a wide Western public. He resigned from the diplomatic service in 1873.
Following the 1902 Anglo-Japanese Alliance, in 1906 he accompanied Prince Arthur on a visit to Japan to present the Emperor Meiji with the Order of the Garter. He was asked by courtiers there about Japanese ceremonies that had disappeared since 1868. He is one of the people credited with introducing Japanese knotweed to England.
---
Showing 1 to 1 of 1 (1 Pages)